Multilayer pipes (PERT-Al-PERT pipes)
Blansol produces PERT-Al-PERT pipes in its factory at Bárcena de Cicero (Cantabria-Spain). The company offers the complete PERT-Al-PERT system as it produces also the fittings for the multilayer pipes.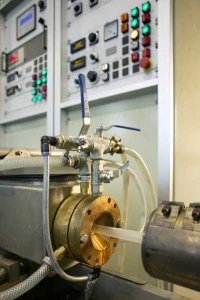 PERT material is a non cross-linked polyethylene which contains specific additives that provide the polyethylene with strong resistance to high temperatures. This material does not require any cross-linking process.
PERT-Al-PERT multilayer pipes have two major advantages:
Flexibility.
Competitive cost.
With this material we produce ideal pipes for sanitary and heating installations.
Multilayer PERT-Al-PERT pipes are compatible with the following union systems produced by Blansol:
Contact-us.
Do not hesitate to contact us if you need more information about our PERT-Al-PERT pipes. We will be willing to discuss with you the possibilities of collaboration and partnership between our companies.
Take advantage of our excellent quality and our competitive prices.