Multilayer pipe sliding sleeve system
Different layers description.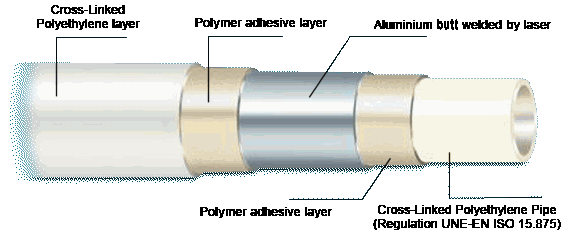 Blansol has developed the Gladiator system for multilayer pipes.
This system will let you combine our range of multilayer pipes (PEX + Aluminium) of the latest generation with all Barbi fittings, normally used for the connection of PEX pipes.
Blansol's Gladiator multilayer pipes consist of a cross-linked polyethylene (PEX) pipe, manufactured according to the European Regulation EN 15875 (16 x 2,3; 20 x 2,7; etc.), to which an aluminium layer butt welded by laser and an outside layer of high density polyethylene are added to serve as a protection against mechanic wear and tear as well as corrosion.
Blansol manufactures the Gladiator multilayer pipes using the most up-to-date Swiss technology for the production of multilayer pipes, technology that comes from the optical fibre industry.
Complex extrusion lines of more than 100 meters long are composed of 4 plastic extruders, a sophisticated conformation equipment and the aluminium welding system. We should highlight that Gladiator pipes are manufactured using a butt welding system that provides the pipe with superior technical features (resistance to pressure and bending possibilities) compared with other technologies where aluminium is overlapped and simply welded by ultrasound.
The Gladiator system will let you benefit from the generic advantages of the multilayer pipes with the specific advantages of the Gladiator multilayer pipes and those of the range of Barbi fittings.
How to install Multilayer pipes with Gladiator sliding sleeve fittings
In this video we will show you how to install Multilayer Composite Pipes (MLC pipes) with Industrial Blansol's Gladiator sliding sleeve system.
As you have seen the use of Gladiator's sliding sleeve system for Multilayer Composite Pipes is very simple.